Each school term, our teachers select two children from their class who they feel have made outstanding progress during that term. The children are presented with a certificate from the Headteacher. Read about our fantastic Autumn term 2019/20 Achievers here!...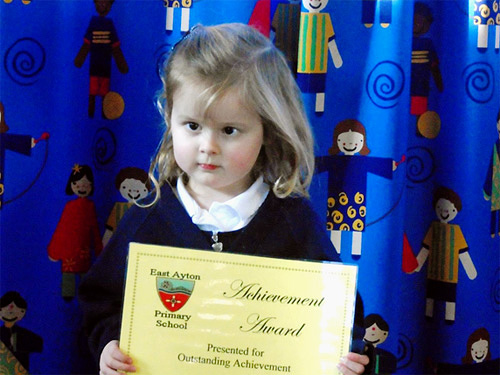 We have seen a huge transformation in this little girl over her first half term in nursery. When Lily joined us, she was extremely shy and quiet, and needed lots of encouragement to stay at nursery. Not anymore! Lily has blossomed into a kind, caring, confident and independent little girl who happily says goodbye to her Mum as she comes into nursery for the morning. Lily notices if her friends are feeling sad or if they are unwell and tries to help them. She always greets her friends, teachers and visitors to nursery with a cheery 'Hello'. We are incredibly proud of you Lily Burnett.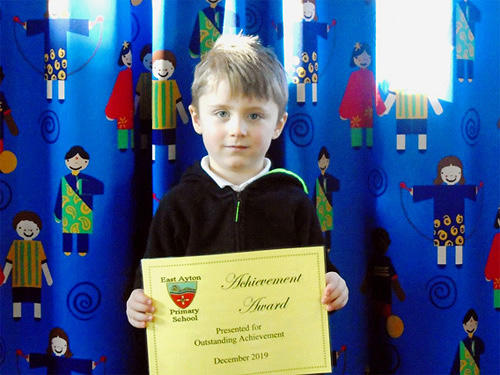 Gabriel joined our nursery in January as a quiet and shy little boy. This term we have seen a massive change in Gabriel's confidence. He joins in with all the activities in nursery, often taking the lead. He is keen to learn, which means Gabriel is making good progress with his phonics and maths skills. Gabriel is a very polite, caring and independent member of nursery and can be relied upon to set a good example to his peers. Well done Gabriel, we are extremely proud of you.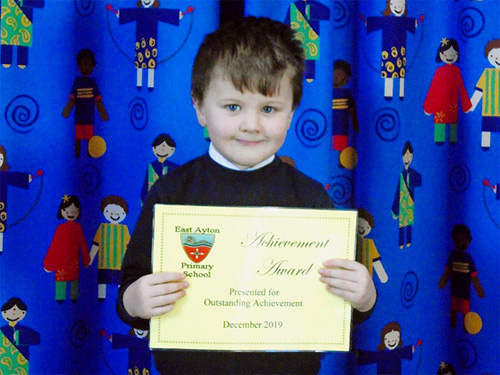 This young man has made so much progress this term and has surprised us all, and even himself. He is often first on the carpet and can't wait to find out what he will be learning about. A great start Joey, and a big Well Done!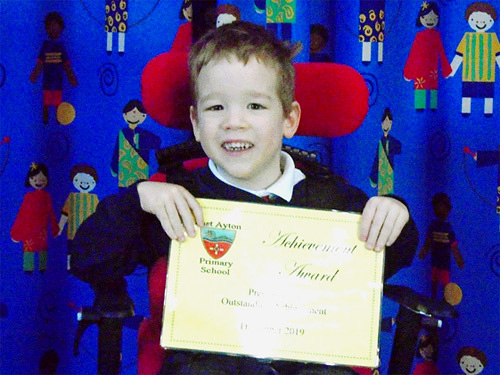 This little boy has a smile on his face from the moment he arrives at school. He tackles every challenge in a positive way and gives his absolute all to every task that is expected of him. He is a true inspiration to us all. A huge Well Done Max, a real superstar in Class R.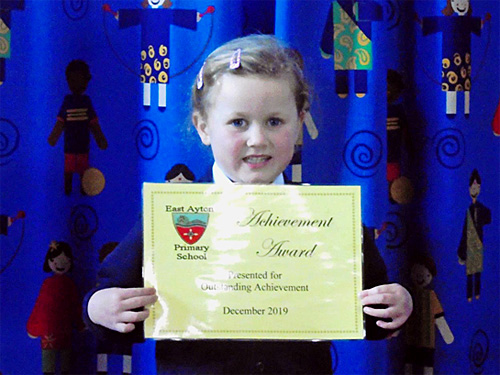 This person is consistently kind, caring and polite. She is someone who never has a bad word to say to anyone and so is a wonderful friend to all. She is gaining masses of confidence in her work in class too. Very well done Phoebe!
This award is for someone who has truly stood out these past few weeks as always trying his best. His letter to Santa in particular was a joy to read. I'm very proud. Well done Harry.
Henry has taken to Year 2 like a duck to water. He consistently makes the right decision, is always enthusiastic, has always got his hand up and has become a real history buff. Not just that - it's wonderful to see his progress throughout English, Maths and Reading. Well done, Henry.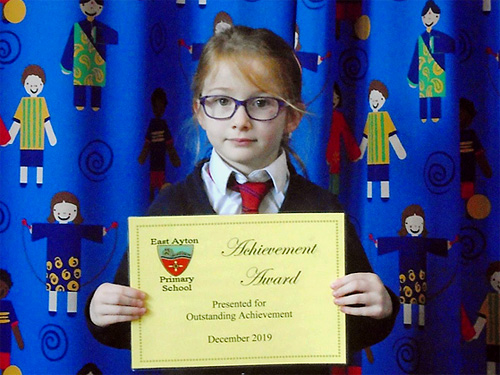 It has been an absolute joy to teach this little girl and to see just how far she has come. She always gives 100% and produces super work. Keep it up, Chloe!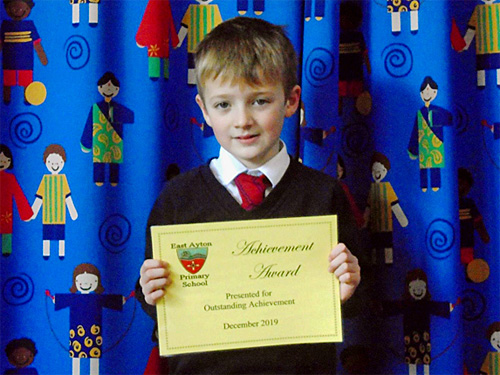 Since this little boy has been in Year 3, he has proved himself to be helpful, kind and hardworking. His work throughout all subject areas is exceptional and I now know to expect pages of engaging, exciting writing to read whenever I open his English book. He is a delight to have in the class, not least because of his eagerness to assist me in any task at hand. It has been an absolute pleasure to start off at this school having such a valuable member in my class. Well done William Dobson, or 'teacher' as you sometimes like to call yourself, you have made me very proud.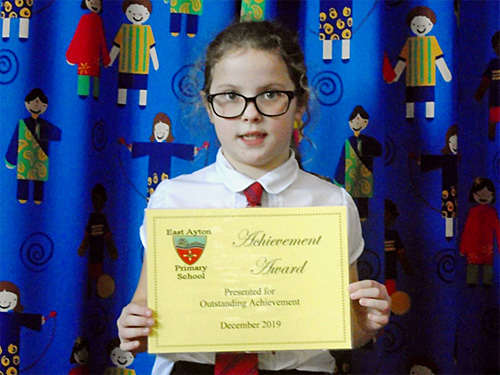 This person has a happy nature and infectious laughter, which leaves a smile on my face daily. This person doesn't find all of her work easy but she has shown perseverance and dedication towards everything she does. She never complains or says CAN'T do it, and has shown she is incredibly resilient.
This member of Year 4 is enthusiastic about all aspects of school life. He has recognised that he is now a more mature member of the class and is working hard to stay focused in lessons. He soaks in everything he is taught and is keen to continue his learning at home, which he confidently presents to the class. He has a wonderful sense of humour and can always be relied upon to put a smile on both his peers and teachers faces. Well done Freddie.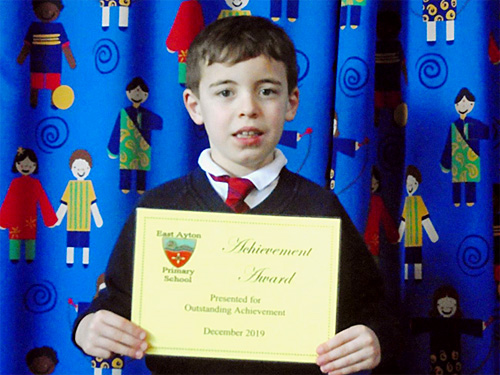 This particular child is an enthusiastic member of Class 4 and always tries his best. Throughout the term, this child has made significant progress and has produced work of the highest quality. Most notably, they have made rapid progress in Maths, which has been recognised amongst all staff working in Class 4. They have demonstrated resilience during the term and have shown an attitude where no hurdle is too big in their learning. This child always makes the right choices in the classroom and is a role model pupil. Well done Alfie.
This Achievement Award goes to a member of Class 5 who has shown determination and resilience. He is always polite and well-mannered. He tries his best in class and always wants to improve his work. He is very mature, sensible and has a 'never give up' approach.
This person always works hard and gives her all in everything she does. Her kind-hearted nature is what has stood out among her peers. She is caring and considerate, and always looks out for everyone else and their feelings. She keeps on surprising me every day, even though she doesn't think I notice. She has worked incredibly hard this term and she is a joy to teach.
This boy encapsulates the atmosphere and values of East Ayton School. He is always happy and often has a wide smile on his face. He has an excellent sense of humour and I thoroughly enjoy teaching him. He is polite and courteous to everyone and he is a role model when working and playing with other children. He has made excellent progress in his maths and writing this term, and he is very knowledgeable about our WW2 topic.
This person's attitude, behaviour and work ethic make them an easy choice for this Achievement Award. However, their most impressive characteristic is their consistency and engagement with subjects and lessons. From the moment they walk through the door at 9am, they are motivated, cheerful and ready to go, and this does not change throughout the day. The progress they are making is a testament to their character and I think myself a fortunate teacher to have a pupil in my class who is so eager and keen to learn. Huge congratulations to Hannah. Very well deserved.